Lunch
Fried Chicken Sandwiches
[ad_1]

KILLER buttermilk fried chicken thighs! So crispy, so juicy. Served with Sriracha mayonnaise, coleslaw and pickles!
BUTTERMILK FRIED CHICKEN SAMMIES, guys. The only sandwich recipe you will need forever and ever. With a double coating, these chicken thighs are fried to absolute golden brown perfection. So unbelievably crispy and juicy.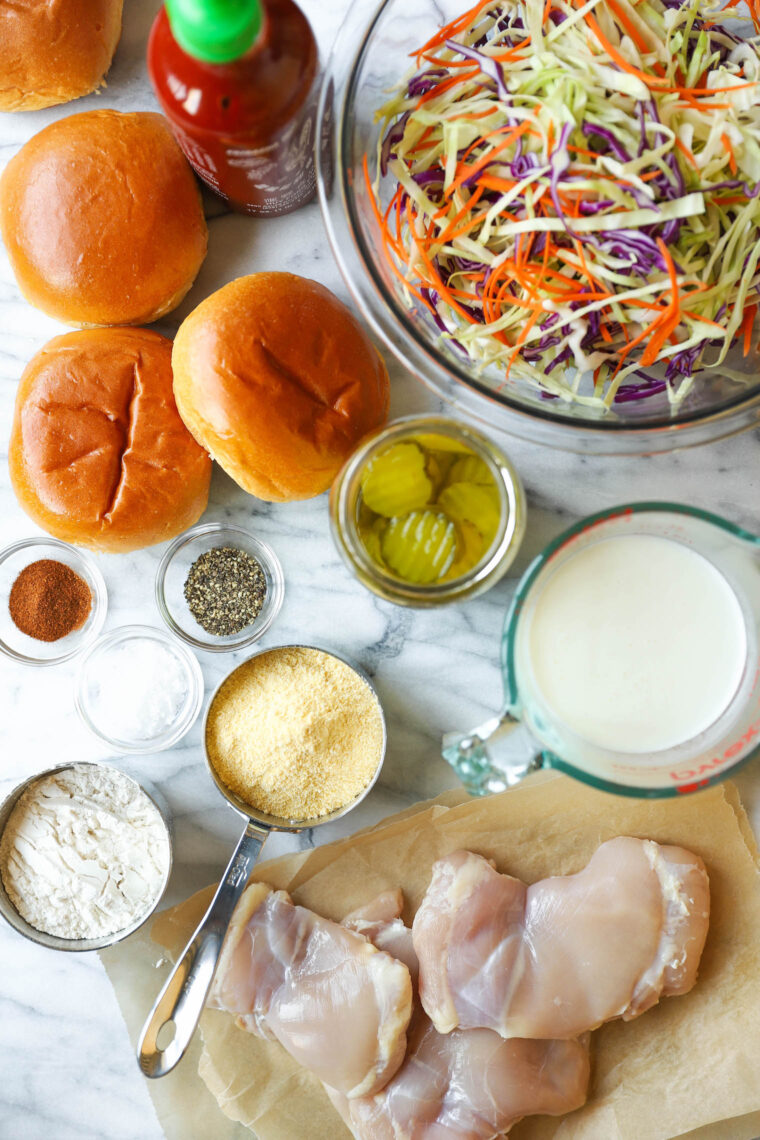 To top it off, these bad boys are served on the butteriest brioche buns slathered with Sriracha mayonnaise (please feel free to add as little or as much Sriracha as your heat tolerance will allow you to do so), coleslaw (homemade or store-bought is totally fine here) and ALL the dill pickle chips.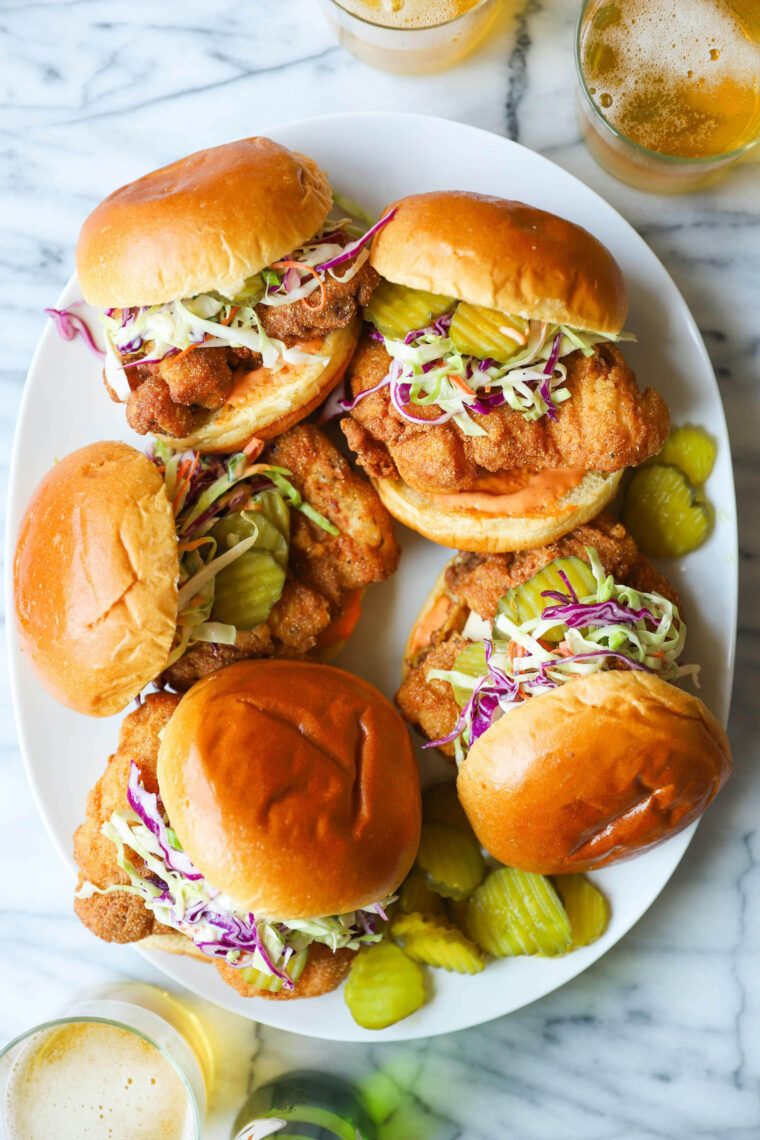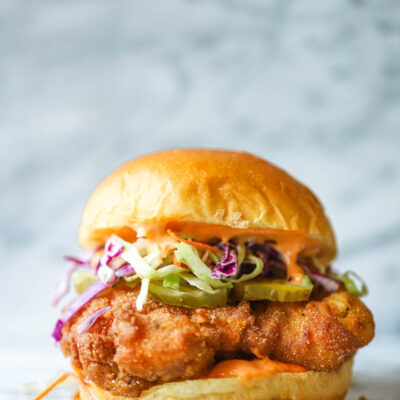 Fried Chicken Sandwiches
KILLER buttermilk fried chicken thighs! So crispy, so juicy. Served with Sriracha mayonnaise, coleslaw and pickles!
entree
Fried Chicken Sandwiches
4 hours 20 minutes10 minutes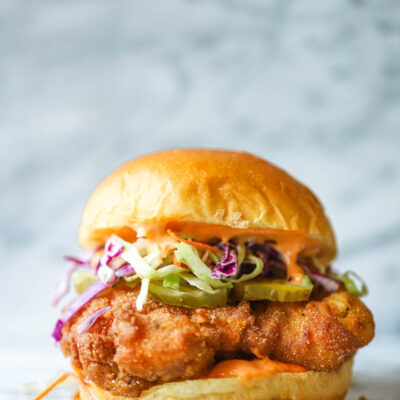 Ingredients:
1 1/4 cups buttermilk
3/4 cup kosher pickle juice
1 tablespoon Sriracha
6 boneless, skinless chicken thighs
1 cup all-purpose flour
3/4 cup yellow cornmeal
2 teaspoons baking powder
1 teaspoon cayenne pepper
Kosher salt and freshly ground black pepper, to taste
8 cups vegetable oil
For the Sriracha mayonnaise
1/2 cup mayonnaise
2 tablespoons Sriracha
For serving
6 brioche hamburger buns, lightly toasted
Coleslaw
Dill pickle chips
Directions:
In a large bowl, whisk together buttermilk, pickle juice and Sriracha.
In a gallon size Ziploc bag or large bowl, combine chicken and buttermilk mixture; marinate for at least 4 hours to overnight, turning the bag occasionally.
In a large bowl, whisk together flour, cornmeal, baking powder, cayenne pepper, 2 teaspoons salt and 2 teaspoons pepper.
Working one at a time, remove chicken from buttermilk mixture and let excess drip off. Then dip into flour mixture, then buttermilk mixture and flour mixture again, pressing to coat.
Heat vegetable oil in a large stockpot or Dutch oven over medium high heat until it registers 360 degrees F on a deep-fry thermometer.
Working in batches, add chicken and fry until golden brown, turning occasionally, about 4-5 minutes. Transfer to a baking sheet fitted with a wire rack and keep warm.*
In a small bowl, whisk together mayonnaise and Sriracha.
To serve, spread buns with Sriracha mayonnaise, then top with chicken, coleslaw, and pickles.
Notes:
*The chicken can be kept warm, as needed, in the oven at 200 degrees F.
Did you Make This Recipe?
Tag @damn_delicious on Instagram and hashtag it #damndelicious.
The post Fried Chicken Sandwiches appeared first on Damn Delicious.


[ad_2]
Source link