Lunch
Ham, Egg and Cheese Breakfast Quesadillas
[ad_1]

Meal prep ahead of time so you can have breakfast done right every morning! This breakfast quesadillas recipe has less than 300 calories per serving!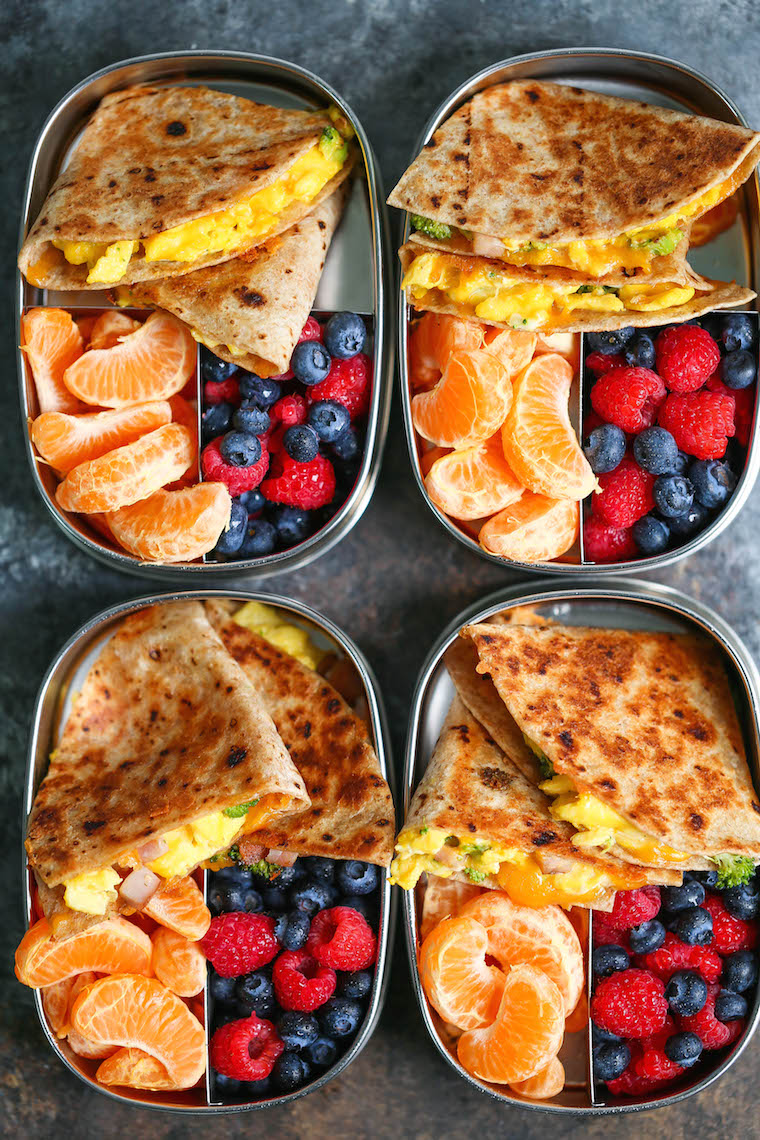 New year, new you, with cheesy breakfast quesadillas, of course!
I'm serious, guys. It's week two of the new year and I have my breakfast prepped and ready to go for the week. And it's my favorite kind of quesadillas – the ones you can have at 7AM with eggs, ham, broccoli and cheese.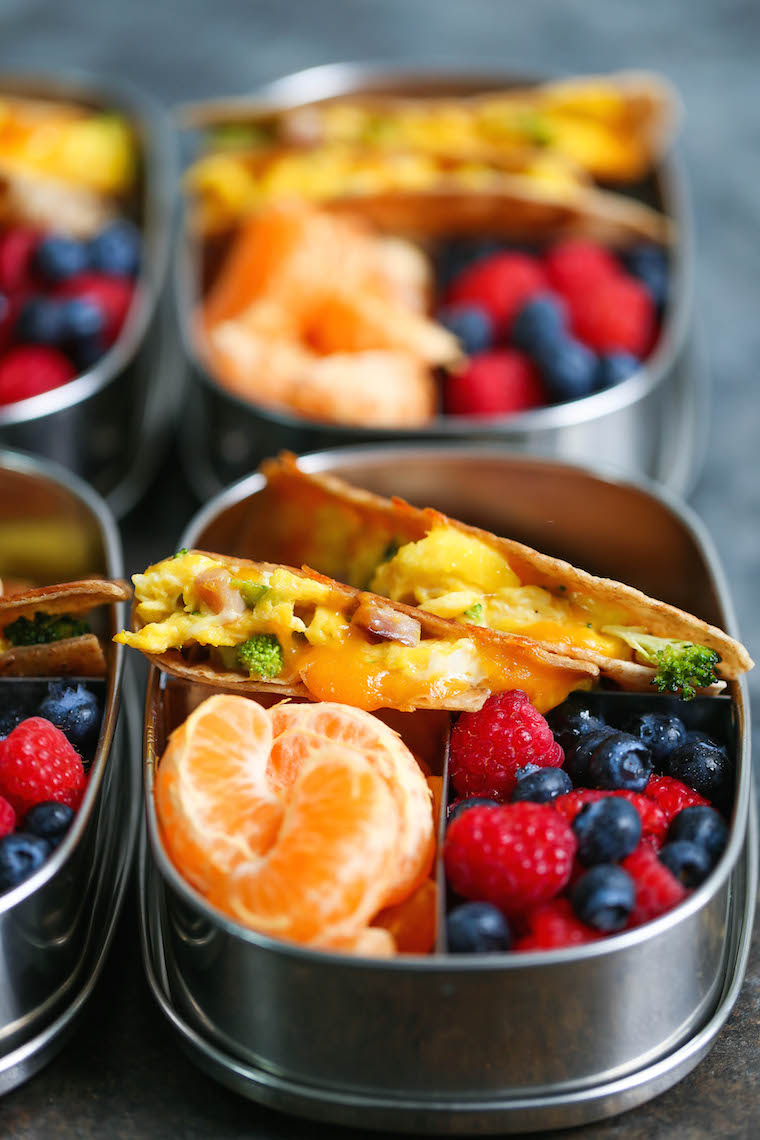 But don't worry – these won't make you crash with a food coma! I promise. They're hearty and filling, and they're only 291 calories per serving, and that includes the fruit!
So who else is jumping on this meal prep train with me? If you are, this is just one of 115 recipes included in my meal prep cookbook, available February 5th!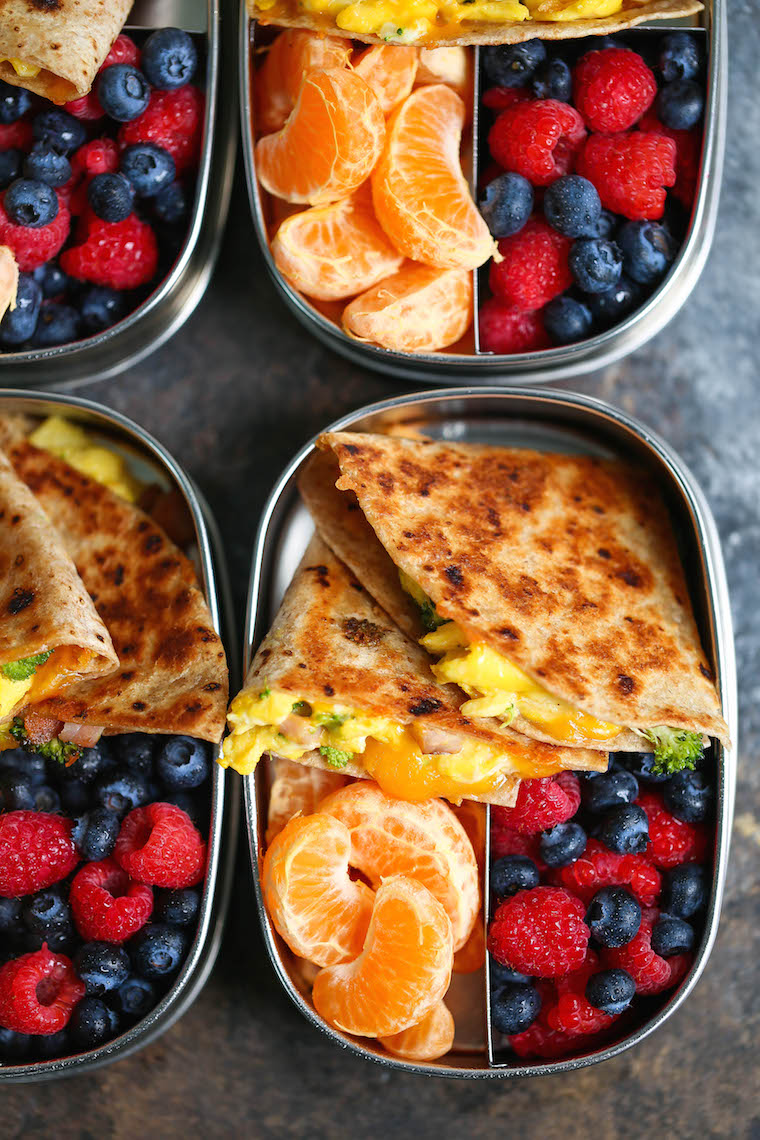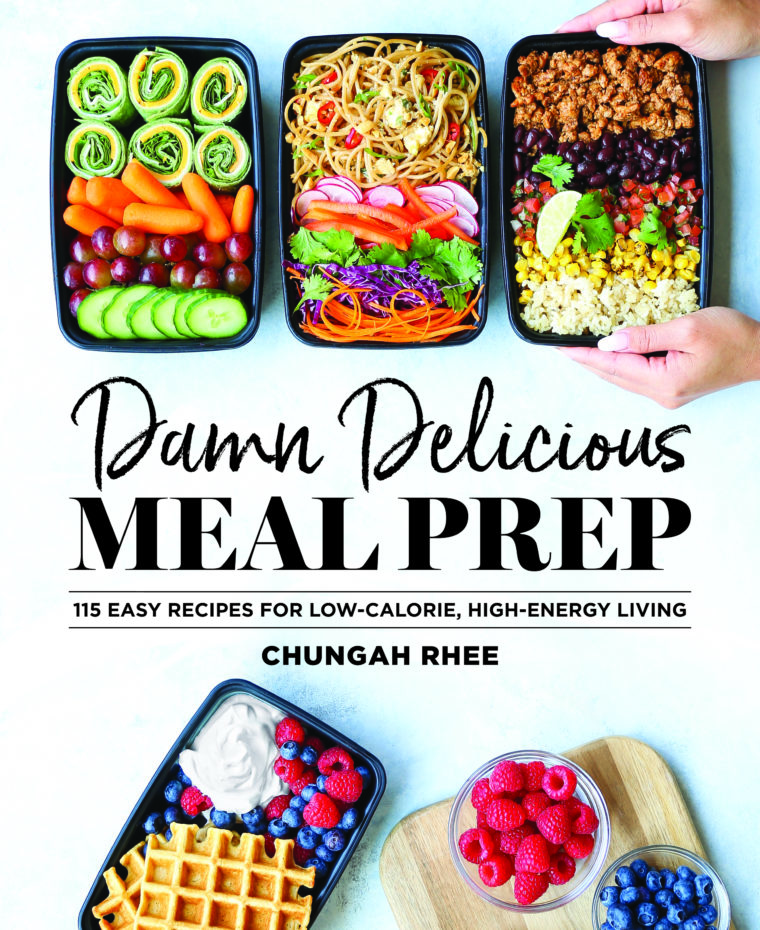 Amazon / Barnes & Noble / iTunes / Indiebound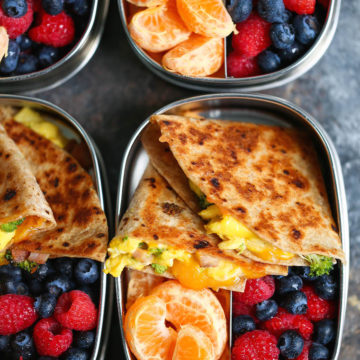 Ham, Egg and Cheese Breakfast Quesadillas
Meal prep ahead of time so you can have breakfast done right every morning! Less than 300 calories per serving!
breakfast
Ham, Egg and Cheese Breakfast Quesadillas
10 minutes20 minutes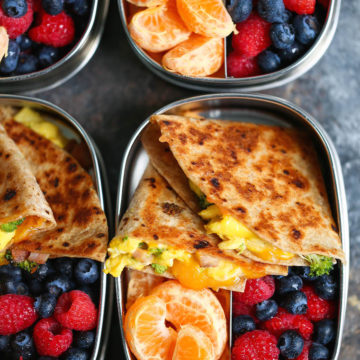 Ingredients:
1 tablespoon olive oil
2 cloves garlic, minced
1 cup diced ham
1 cup chopped broccoli florets
4 large eggs, lightly beaten
Kosher salt and freshly ground black pepper, to taste
2 green onions, thinly sliced
4 4-inch whole wheat tortilla
1/2 cup shredded reduced fat cheddar cheese
1/2 cup raspberries
1/2 cup blueberries
4 tangerines, peeled and segmented
Directions:
Preheat oven to 400 degrees F. Line a baking sheet with parchment paper.
Heat olive oil in a large skillet over medium high heat. Add garlic, and cook, stirring frequently, until fragrant, about 1 minute. Stir in ham and broccoli until broccoli is tender and bright green, about 3-4 minutes.
Add eggs to the skillet and cook, stirring gently using a silicone or heat-proof spatula, until they just begin to set; season with salt and pepper, to taste. Continue cooking until thickened and no visible liquid egg remains, about 3-5 minutes. Stir in green onions.
Layer half of each tortilla with the egg mixture; sprinkle with cheese. Fold in half and place onto the prepared baking sheet.
Place into oven and bake until the cheese has melted, about 5-6 minutes.
Place quesadillas, raspberries, blueberries and tangerines into meal prep containers.*
Notes:
*Refrigerate for up to 3 days. The quesadillas can be reheated in the microwave in 30-second intervals until heated through.
Did you Make This Recipe?
Tag @damn_delicious on Instagram and hashtag it #damndelicious.
Nutrition Facts
Serving Size
Servings Per Container 4
---
Amount Per Serving
Calories 291.0
Calories from Fat 108
% Daily Value*
Total Carbohydrate 24.0g
8%
---
*Percent Daily Values are based on a 2,000 calorie diet. Your daily values may be higher or lower depending on your calorie needs.
The post Ham, Egg and Cheese Breakfast Quesadillas appeared first on Damn Delicious.


[ad_2]
Source link