Dinner
Slow Cooker Rotisserie Chicken
No more store-bought chicken! Nope, you can make this in the crockpot with only 15 min prep. So tender, moist and juicy!
During my college days, I would use my mom's Costco membership to snag one of those Kirkland rotisserie chickens whenever I could. I mean, guys, it was (or maybe still is) $4.99 for a whole seasoned chicken!
And with a college budget, this chicken would feed me for days. Maybe even a week if I could really stretch it out.
But if you don't live near a Costco, don't worry. I got you guys covered. You can skip that emergency grocery run to grab that rotisserie chicken on the way home from work.
All you need is a slow cooker, 15 minutes prep or less, a simple spice rub, a lemon and some fresh herbs.
That's it! From there, you can let it cook low and slow for 4-5 hours for the juiciest chicken of your life. And if you really want to go that extra mile, throw the cooked chicken onto a sheet pan for a quick broil for crispy skin.
Either way, you won't want store-bought rotisserie chicken ever again because it's just that easy.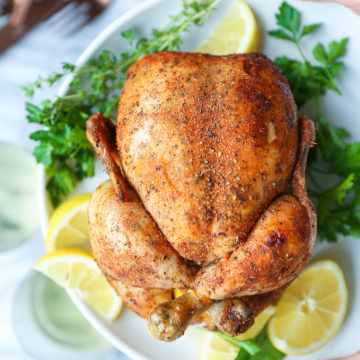 Slow Cooker Rotisserie Chicken
No more store-bought chicken! Nope, you can make this in the crockpot with only 15 min prep. So tender, moist and juicy!
entree
Slow Cooker Rotisserie Chicken
15 minutes4 hours 15 minutes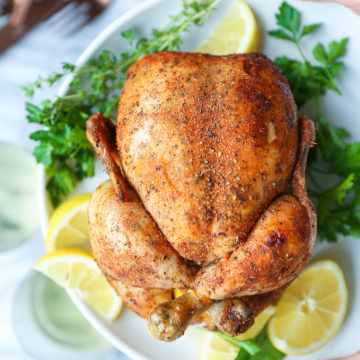 Ingredients:
1 1/2 teaspoons paprika
1 teaspoon light brown sugar
1 teaspoon dried oregano
1 teaspoon onion powder
1/2 teaspoon garlic powder
Kosher salt and freshly ground black pepper, to taste
1 (4-pound) whole roasting chicken
1 lemon, halved
3 sprigs fresh thyme
1 sprig rosemary
2 large carrots, cut into 3-inch pieces
2 celery ribs, cut into 3-inch pieces
1/2 small onion
Directions:
In a small bowl, combine paprika, brown sugar, oregano, onion powder, garlic powder, 1 1/2 teaspoons salt and 1 teaspoon pepper.
Remove giblets and excess fat from the chicken cavity. Dry chicken thoroughly with paper towels. Season chicken and chicken cavity with paprika mixture. Stuff cavity with lemon, thyme and rosemary.
Place carrots, celery and onion into a 4-qt slow cooker. Place chicken, breast side up, on top of the vegetables; tie drumsticks together with kitchen twine.
Cover and cook on low heat for 4-5 hours, reaching an internal temperature of 165 degrees F. Remove chicken from the slow cooker; let rest 10-15 minutes.
OPTIONAL: Preheat oven to broil. Place chicken onto a baking sheet and broil until crisp and crusted, about 4-5 minutes.
Serve immediately.
Did you Make This Recipe?
Tag @damn_delicious on Instagram and hashtag it #damndelicious.
The post Slow Cooker Rotisserie Chicken appeared first on Damn Delicious.
[ad_2]